What's That Noise?
So here's the first installment of featured record reviews that will posted here in some sort of "regular" interval. Today, we feature Matthew Bower's new Skullflower release, and below is the review I wrote for WXYC.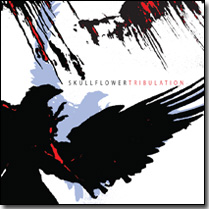 Artist: Skullflower
Album: Tribulation
Label: Crucial Blast
You should really take this sitting down. The umpteenth release from UK underground noise god Matthew Bower's Skullflower finds him taking the lone road to dissolve your version of reality. A stew of distortion densely packed into a psychic attack built to destroy your senses, the sound roars and roars through cascading guitars and sharp swells of bubbling, black euphoria. The tones harmonize, detune; float in and out, up and down, and now I can't seem to lift my head off the floor. Trapped in scary suspended animation complete with shining knives and a blood red sunset, time careens by until it gets lost in space and drifts lazily down into the mire once again. The sheer depth of the tracks is mind-bending – Bower will take you on the psychedelic nightmare of your life, twisting and turning underneath the waves of unsettling undertones until you beg for relief. Whereas 2005's Orange Canyon Mind contained more guitar riffs and swirling textures, Tribulations is much more difficult to digest, due to the marathon of shrieking intensity that just doesn't quit. The noise here is bred organically from a volume-cranked guitar and static projections, and it will consume you. This is the thinking man's metal, another fine offering from Crucial Blast, and a job worth applause for Bower. But don't think too hard - you'll get fucking cut.
Cole Goins
cgoins@email.unc.edu